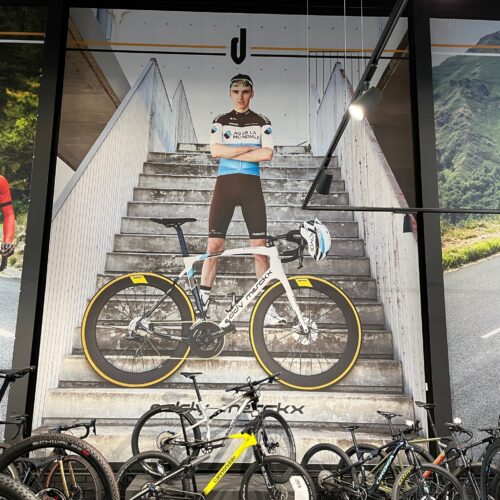 Arriving at Velodroom in Roden, the suspicion quickly creeps up on me that this is not just any bicycle store. Picnic benches and oil drums, which serve as standing tables, reveal a cozy meeting place for cyclists. Upon entering, many a cycling enthusiast will feel like a kid in a toy store. A colorful mix of beautiful new bikes, a cozy bar as well as an open workshop (also Shimano Service Center) will soon make you feel the urge to take off your coat and immerse yourself for a few hours in this cycling mecca. "We have been here with the Velodrome – formerly Bikelife Roden – for almost 2 years now and have multiplied in terms of space. We try to be more than just a bike store and prefer to see ourselves as a cozy bike living room" says Sanne Bouwmeester, working as event manager at Velodroom.
The approximately 25 employees are all passionate cycling enthusiasts and are ready to offer appropriate advice and assistance to the sporty cyclist. ATBs, road bikes, gravel bikes but also sporty (electric) city bikes are clearly arranged in this trendy cycling experience in the head of Drenthe. A cup of coffee (in my case tea) is of course not lacking.

"For us, this means that we as Velodrome have gained an additional digital channel to be close to our community."
"Also outside the shop we try to be active with our own community. We sometimes organize bike rides and last year we also participated in the Rapha Festive 500". The Rapha Festive 500 is an annual challenge in which cyclists from all over the world try to cycle 500 km. in the period between December 24 and 31. "For this we used the Cyql app for the first time last year and this worked out very well. Every day participants could choose a new race or ATB route that we had prepared in Cyql, of course with start and end points at Velodrome.". Within a few days, 40 participants had already signed up in the Cyql app. "The nice thing is also that my own cycling club (De Kannibaal from Peize) also uses the Cyql app so I have everything nicely at hand."
Cyql can obviously be used as a club app for cycling clubs but can also be used to support a one- or multi-day event or to build a community around a brand or company. "For us this means that we as Velodrome have gained an extra digital channel to be close to our community. We are now also considering preparing for the Drente 200 using Cyql. This way we can explore the course in parts with our followers beforehand. Perfect!" concludes Sanne. We conclude this interview and I am already standing with a slanted eye on one of the many gravel bikes.
My decision to look around some more is rewarded with a second cup of tea. I can extend my stay in the Velodrome a little longer