Digitize and increase engagement of cycling clubs and help members to cycle more and safer together
Cyql offers several unique opportunities for cycling clubs. The fast-growing platform helps cycling clubs to get members more and safely on the bike together. Many cycling clubs communicate through large and cluttered Whatsapp groups that are often considered tedious. Cyql provides efficient communication between members among themselves.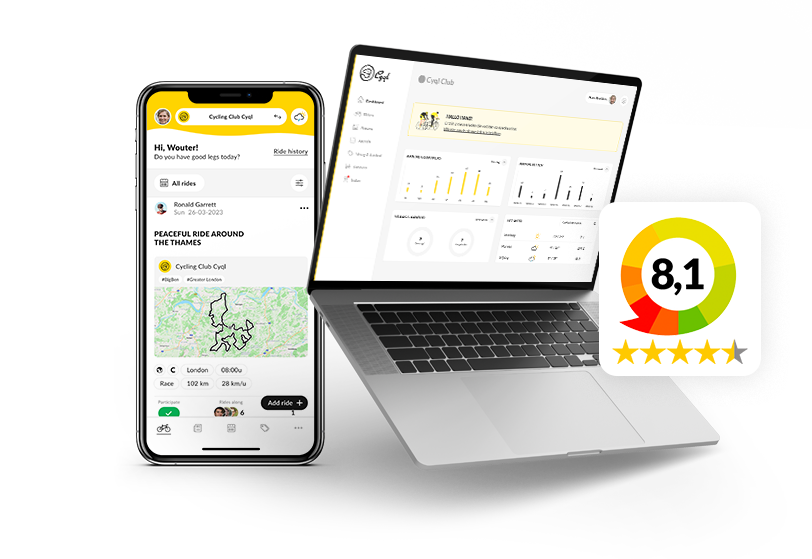 Help cycling clubs digitize and get members cycling more and safer together
Cyql is a well-organized and clear app. Once members see how it works, they immediately see the value and start using Cyql more and more
Jan de Kruijf – TC de Volharding 🇳🇱
It's surprising how quickly you actually set up the app for your club. In an evening you'll have figured out how it works and can actually send the QR code to members to sign up
Willem Op 't Roodt – TC de Batauwers 🇳🇱
Due to the practical experience of Cyql's staff and excellent cooperation, the app is now indispensable for many of our affiliated clubs. The Cyql app fully meets the needs of our members. Cyql makes it easier to schedule a group ride. In addition, the app contributes to stronger member loyalty. It's not for nothing that already over 250 clubs are using the Cyql app.
Jos van Schijndel – NTFU (Dutch Cycling Association) 🇳🇱
WTC Sportive As chose Cyql as its club app because it is nice to be able to communicate along these lines and thereby be close to the club members. You can use this app for almost everything to do with the club. The rides, information, GPX files, weather, photos, etc. And all this can be accessed in one place. It is easy to use and the service is top notch! You can install it on your smartphone (iOS and Android) and also on your tablet and PC. That's why we recommend this app. Give it a try!
Yvo Rens, WTC Sportief As 🇧🇪
With the use of the Cyql platform, cycling federations can help affiliated clubs to digitize their own cycling club. Follow the example of the Dutch Cycling Assocation (NTFU) where within 1 year more than 240 cycling clubs (40% of all cycling clubs) have already switched and use Cyql.
Cyql is a turnkey platform and can be deployed very fast. The mobile application can be downloaded via the Apple Appstore and Google Play and a cycling club can use the platform immediately.
An additional digital channel is created for cycling associations to stay in touch with affiliated cycling clubs. For example, periodic updates can be shared with members via the Cyql app or via an email newsletter. Members have their cycling club in their pocket!
Want to know more about the possibilities of Cyql for your cycling association?
Contact us to get acquainted.