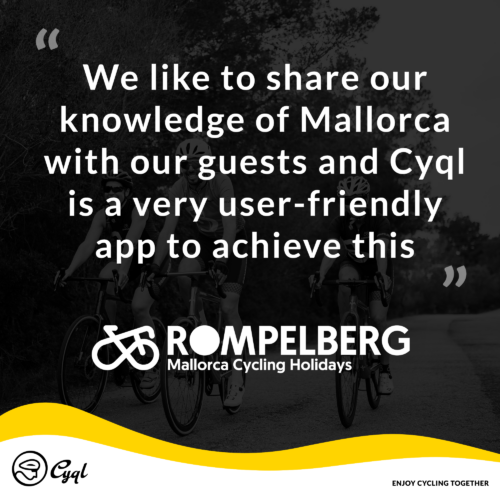 Cyql has long since ceased to be used only by clubs and groups in the Netherlands. Across borders, too, Cyql is increasingly being used. On Mallorca, Rompelberg Cycling Holidays recently started using Cyql and the app is used as the tool of choice for guides and guests. We asked Lode Van de Maele, working as Group Booking Agent at Rompelberg, about their experiences with Cyql so far.
Can you tell us a bit about your company? Rompelberg Cycling Holidays is an organisation that organises complete cycling holidays on Mallorca, completely tailored to your needs. You can find us in lively Playa de Palma and in rustic Alcúdia. Besides complete cycling holidays, you can also contact us for cycle hire, hotels and flights. The second generation of Rompelbergs have turned a small family business into a major player within the Majorca bike rental industry. We have stood for good service, a personal approach and competitive prices for more than 25 years.
Why did you start using Cyql? The use of bike navigation has increased dramatically and there is a demand from our guests for quality digital bike routes. We like to share our knowledge of the island with our guests and found in Cyql a user-friendly application that has launched a multilingual version of their sharing platform, ideal for our diverse audience. Meanwhile, participants in our guided group rides are also eagerly using the application to learn about the rides programme.
How many people use Cyql within your organisation? All our cycling guides have signed up to the app. They have got to know it thoroughly and are able to inform guests about the correct use of the app. We already have more than 150 registered members today, with new members joining every day. We expect a peak of new sign-ups in our peak season, late April and early May.
What do you like about Cyql? Cyql has a clear structure that allows intuitive use of the app. Anyone who has cycling navigation and uses applications like Garmin Connect or Wahoo Elemnt is able to select a route from the Cyql app and load it onto their cycling navigation in less than 1 minute. No more wires to the computer, no more messing around with downloading files from email or WhatsApp.
Users who do not have a cycling computer will still have a tool at their hands that offers a chronological overview of a week's programme, with zoom function on a cycling route. With 1 application, our guests can consult our full programme of activities on and off the bike, sign up to a guided bike ride and communicate with the bike guide or other participants of this ride.
What could be a great addition? We are looking forward to the update that will also allow photo sharing in Cyql. Once this option is active, Cyql will completely replace our current WhatsApp groups.